WebStock
If flying to New Zealand wasn't such a ridiculous way to spend my money on a web conference I would so be there. Luckily a few of the same speakers will be at South By Southwest. Beautifully designed site. Love the layers and typography.
This Ain't No Disco
A Blog that features interior work environments from creative agencies all over the world. The more comfortable you are in your surroundings the more creative you can be, and this site features some really cool spaces.

Yahoo Design Pattern Library
Sometimes everyone who is involved in creating a website is not on the same page to what nomenclature should be used for web functionality. I had one client call everything that was a square an "iframe". Web banners, and carousels were all iframes. This made communication difficult. This is the second more extensive pattern library I have seen and I recommend checking it out. The other is http://ui-patterns.com.

Disengage
Doug is one of my new colleagues at Viget, and and I really enjoy his Blog. My personal favorite post is called "Live Life as Doug: The Easy Way". Both Doug and his blog are very witty and full of interesting information. His Flickr gallery with inspiration is fantastic.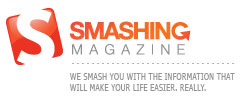 10 Principles Of Effective Web Design
If you haven't been to Smashing Magazine yet.. go there. Now. Don't even finish reading this post. While many of Smashing's articles can massive brain-dumps of obvious information they also have a lot of good stuff too. This article is a good one to bookmark.
PacMan Cupcakes
Need I say More?